What is it?
AllJoyn is an open source software framework that makes it easy for IoT devices and apps to discover and communicate with each other. It began in 2011 within chip giant Qualcomm, which offers chips powering many of today's leading smartphones. The initiative is now overseen by the AllSeen Alliance, a cross-industry collaboration advancing the Internet of Things. AllJoyn is code that can be easily added to many operating systems or apps and provides an abstraction layer to the underlying network protocols. It lets disparate devices connect without the need for a physical hub device.
AllJoyn Products
LG Smart TVs, LG Smart Air Conditioners, Windows 10 Professional and Surface Pro 3 from Microsoft were the first products to earn AllJoyn Certification. With more than 200 million (it's a core component in Windows 10) AllJoyn-enabled products in the market and 200 plus members working on the open source technology, the AllSeen Alliance is the world's largest collaborative effort enabling the interoperability of the IoT.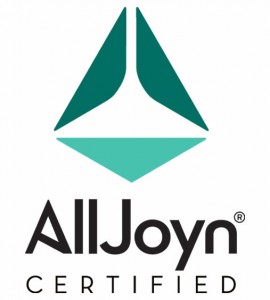 Certified products, apps and services from AllSeen Alliance members such as Buffalo, LG Electronics, LIFX, Musaic, Microsoft, and Two Bulls simply and seamlessly discover, connect and "talk" to each other right out of the box.
Benefits
The AllJoyn framework is "platform-neutral", meaning it was designed to be as independent as possible of the specifics of the operating system, hardware, and software of the device on which it is running. It natively supports common platforms like iOS, OS X, and Windows 10. Plus it's open source so it can be developed in a collaborative public manner.
Downsides
Given the appearance of Apple's HomeKit and Google's Brillo, AllJoyn (and rival open framework IoTivity) could have a bigger future outside of the home within the industrial market where the demands of applications might require either the interoperability of AllJoyn or the rapid development environment of IoTivity.
Find out more
---